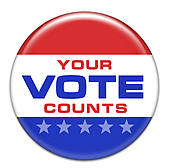 SPRING ELECTION APRIL 2ND, 2019.
SPRING ELECTION 2019 POLLING LOCATION AND HOURS: CLICK HERE
NOTICE OF SPRING ELECTION 2019 VILLAGE OF MINONG: CLICK HERE
SPRING ELECTION 2019 NOTICE WASHBURN COUNTY: CLICK HERE
ABSENTEE VOTING INSTRUCTIONS: (UPDATE PENDING)
_______________________________________________
Election ID Information
---
It is very important to make sure you have the proper ID to vote. Please see the link below:
Are you registered to vote? To find out: CLICK HERE
Getting a Free ID for Voting is Easy!
Free ID & Identification Card Petition Process (IDPP) – For English Click Here
Spanish Version Click Here- Tarjeta de identificacion gratuita y el proceso de peticionarla (IDPP)
---